FORUM
Search found 5 matches
Search found 5 matches • Page 1 of 1
by Asmithe

Tue Feb 07, 2012 8:07 pm
Forum: Season 2
Topic: Cow Days, found one ;)
Replies: 2
Views: 5165
At about the 18:20 mark. The boys go back to the carni game for the T&P dolls. He hands them to stan, but if your paying attention you'll see. Its two Phillip dolls, until right before the head falls off one. In that scene it turned into the red doll, but there isn't even a T on it. http://i1143...
by Asmithe

Sun Nov 13, 2011 9:36 pm
Forum: Season 3
Topic: Pip with 3 arms. TGNHT
Replies: 2
Views: 3125
Episode two guys naked in a hot tub.
by Asmithe

Thu Nov 03, 2011 6:04 am
Forum: Season 2
Topic: small blooper from Chef Aid
Replies: 1
Views: 2373
I was watching episode and it only flashed for a second I think. It just stood out to me, thought I would share.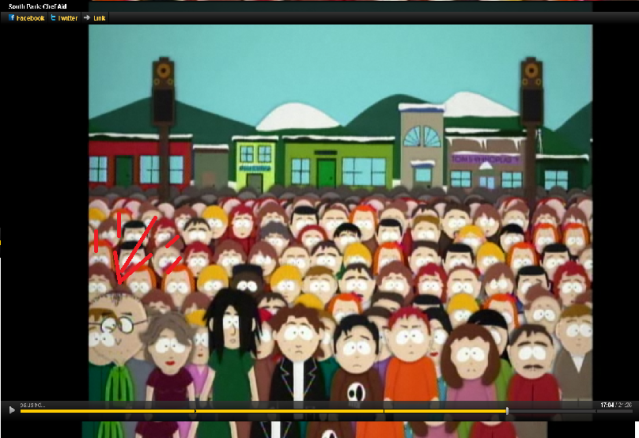 by Asmithe

Sat Oct 15, 2011 8:58 am
Replies: 321
Views: 61457
Funny episode. But honestly its probably the least best one of this season so far. You really couldnt think of a better solution/explanation for what had happened in the previous episode. So it was well expected this one would be more random, to where most in this season had been on 1 general topic ...
by Asmithe

Sat Oct 15, 2011 8:49 am
Forum: Character Discussion
Replies: 2230
Views: 339472
Kenny has always been a favorite since ive been watching. But my absolute favorite character would be Towlie, his lifestyle seems very familiar with me

---
Search found 5 matches • Page 1 of 1