FORUM
Moderator: Big-Will
Posts: 13
Joined: Sun Dec 21, 2003 11:31 pm
I just wanted to share a
South Park
interactive fan game I made in Flash. I wouldn't exactly call it a game, but an animated interaction. Roll over the characters to see them talk and move. There are currently four scenes (the town, the bus stop, the school and Cartman's house) and characters include Cartman, Kenny, Kyle, Stan, Chef, Wendy, Mr. Garrison, Mr. Mackey, Mr. Hankey, Butters, Tweek, Ike, Towelie and seven hidden others. If people like it I will continue to build on it, adding new scenes and characters. So please check it out on Newgrounds!
http://www.newgrounds.com/portal/view/578288
Here is a screen shot from the game:
I also have South Park animated gifs on my blog here:
http://fartoonsblog.blogspot.com/p/animations.html
Ryan
That's cool!

Some of the scenes surprised me because I wasn't expecting it to be part of the interaction!
I'm surprised that this thread didn't get a bunch of comments. I know this is an old thread but the game is well done and I especially liked Kyle and Butter's singing
OMG

A great job. Especially thanks for Kenny

I saw only several qualitative games related to SP. The best is SP The stick of Truth =)) but your game look like a short film with gameplay elements.
Also I have seen
south park slot for online gamblers
. I wonder, who decided to create this and for what?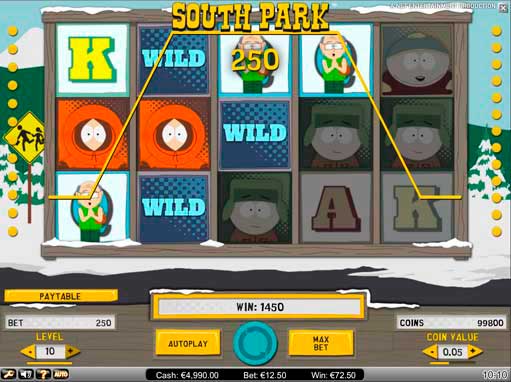 What do you mean 'who decided to create this and for what'?

You can find many slot games online with that are based on TV shows. For example
this Sopranos slot game
Anyway I think that the South Park slot game should be updated with new characters now

---
Who is online
Users browsing this forum: No registered users and 1 guest