FORUM
Moderator: Big-Will
I would like to see a T-shirt from the episode The Ring, an Elementary School Musical T-shirt, a Vampire Kids T-shirt, a Goths Kids T-shirt, a Mysterion T-shirt and a McCormick family T-shirt.

Whats your favourite T-shirt?
Dig around on
here
. There's a pretty nice selection of graphics from most of those eps. But I do agree there needs to be more goth kids stuff. I'd like to see more of an Ike selection. My favorite shirt ever is the one my avvy's wearing.
Mine's almost threadbare by this point.
Mine is still is good condition. I wear it maybe once every two weeks.

Mine has faded, developed pit-holes from sleeping in it from time to time, and Stan's starting to disappear.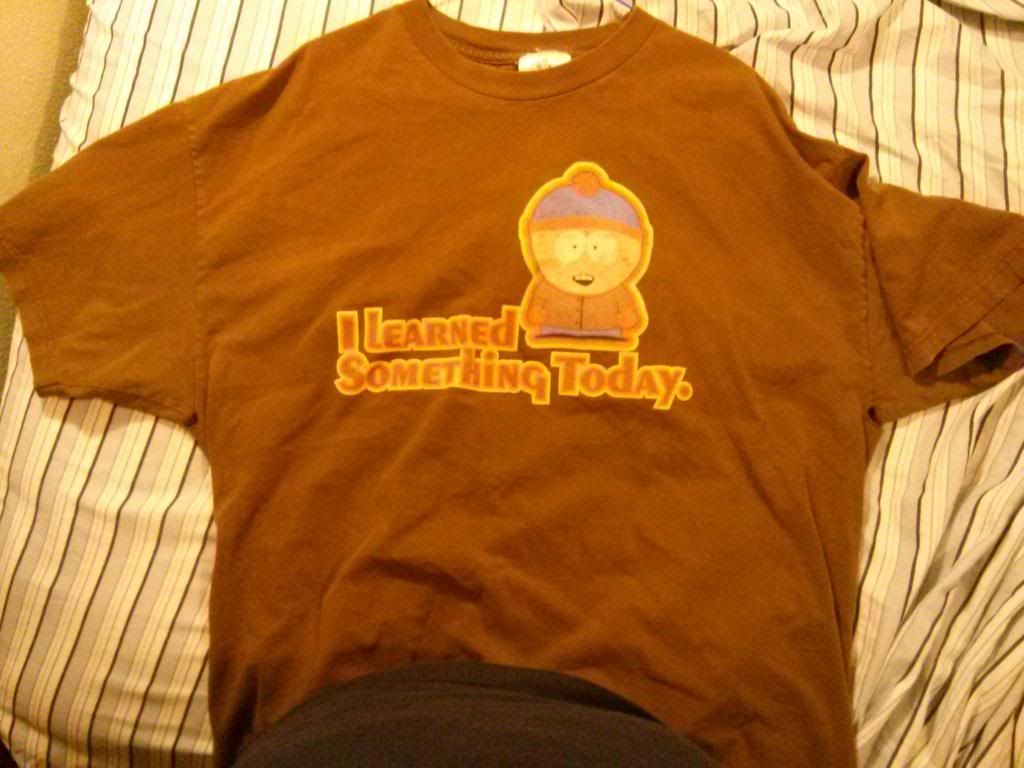 Maybe I should've washed it cold/cold instead of warm/cold.
eedit; Oh my god. I've actually gotten so fat now that my gut interferes with all my photographic activities!
Posts: 103
Joined: Thu Jun 09, 2011 10:11 pm
Definitely a Mysterion t-shirt, as well as a Coon and friends shirt.
Also, a Tron-Stan from "You Have 0 Friends"!
I still want a full TRON suit to put on my avatar! But that's another subject all together.
Aw, I saw a Cartman "Screw you guys, I'm going home" shirt at Wal-Marts in Marble Falls a few months ago, but they didn't have any in my size. Haven't seen any at the stores up here either.
There needs to be more Kyle stuff too. First thing that comes to mind is a girl's shirt.
This:
Well, just Kyle, but in that pose and it would say "ROCKSTAR" in glittery letters above.
And I really want a friggin' MOOP shirt. Not necessarily a pic of the whole band, just the "logo" on a red shirt.
Coon and Friends T-Shirt

[They'd never create this T-Shirt, but interesting idea]:
"I killed my parents with the help of Farmer Denkins, then made them into chili, fed them to my brother, and all I got is this lousy T-Shirt"

---
Return to "General South Park Discussion"
Who is online
Users browsing this forum: No registered users and 1 guest