FORUM
Search found 11 matches
Search found 11 matches • Page 1 of 1
Fri Nov 08, 2013 3:54 am
Replies: 64
Views: 22156
Pretty good episode, but the whole Kyle becoming a martyr seemed too reminiscent of both Margaritaville and the whole "Stan Ground" thing combined.
Fri Nov 08, 2013 3:49 am
Replies: 86
Views: 29896
To me, this is the worst episode of South Park since "Pip", for so many reasons: 1. It relies too heavily on a movie reference. This CAN work, but it rarely does. People who haven't seen the movie are alienated, plus it ages faster than other episodes with original plots. This isn't doomin...
Fri Nov 16, 2012 9:28 am
Topic: I noticed a mistake!
Replies: 6
Views: 2274
I don't think they are supposed to be the same people.
Fri Nov 16, 2012 9:24 am
Replies: 11
Views: 3769
Just realized I didn't list Insecurity

I thought it was actually a solid 8/10 episode. The UPS dynamics were hilarious. Went downhill toward the end once the actually INsecurity system was introduced but a solid episode.
Mon Nov 12, 2012 3:02 pm
Replies: 11
Views: 3769
Strange, because I really enjoyed 16 A. Here's my opinion of the entire season; Run A Reverse Cowgirl: 6/10 Cash for Gold: 6/10 Faith Hilling: 9/10 Jewpacabra: 5/10 Butterballs: 9/10 Ziplining: 9/10 Cartman Finds Love: 7/10 Run B Sarcastaball: 4/10 Raising the Bar: 4/10 Going Native: 2/10 A Nightmar...
Thu Apr 26, 2012 5:35 am
Replies: 177
Views: 40107
Okay, some insane speculation here, so this is what I took away from the episode; 1. Cartman (as far as we know in canon) isn't gay, he's manipulative. He was obviously out to piss off Kyle and get him away from Nichole, nothing more. 2. Cartman is as racist as ever. His motives for getting Token an...
Wed Apr 25, 2012 5:25 am
Replies: 182
Views: 53231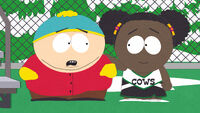 After all these years, is Cartman really a sweetheart? Probably not.
Sun Apr 22, 2012 2:20 am
Replies: 446
Views: 93312
I'm confident Matt and Trey are intelligent enough to be able to distinguish actual fans vs. trolls when they see feedback on the internet. This episode quickly became one of my favorites. The live action Kenny killed me. Loved how laid back he was, just how I'd picture him being. "I don't know...
Sat Apr 21, 2012 6:23 am
Replies: 446
Views: 93312
If Matt, Trey, or anyone on the South Park staff happens to read this;


I've been watching South Park since Volcano was a new episode, and I can't remember a time when I laughed as hard as I did during this episode. It just struck a cord with me.

Bravo.
Fri Apr 06, 2012 11:48 pm
Replies: 23
Views: 3864
1. Big Gay Al's Boat Ride 2. City on the edge of Forever 3. Are you there God? It's me, Jesus 4. Trapper Keeper 5. Kenny Dies 6. The Biggest Douche in the Universe 7. South Park is Gay 8. Cartman's Incredible Gift 9. Two days before the day after tomorrow 10. A million little fibers 11. Guitar Queer...
Fri Apr 06, 2012 9:33 am
Forum: Character Discussion
Replies: 3
Views: 2098
It seems they originally grew bored of him and attempted to replace him with Butters/Tweek because he can't contribute a whole lot to a story besides being a dirty little bastard. They recently added a lot more depth to him by making him Mysterion, but I would love to see him ditch the orange hood a...
---
Search found 11 matches • Page 1 of 1