FORUM
Moderator: Big-Will
Posts: 1
Joined: Thu Jul 28, 2005 4:12 pm
On the NFL on NBC's return last night, Al michaels pointed out that this was his first time he was working with Bob Costas since their cameo roles in the great movie 8 years ago. Then tore into it (jokingly or not) by saying that the film only grossed $11.63 lasting an hour and a half and only 4 people saw it, all of which were paid off. I know it kinda sounds jokingly, but I as a fan take some offense to that sice it has become more than something at the discount rack at your local supermarket. What do you all think of the comment?!
Posts: 2878
Joined: Wed Dec 22, 2004 2:22 am
It was a joke it doesn't really bother me
If M&T were watching, they'd probably be saying the same things...
[img:30e81]http://img.photobucket.com/albums/v256/OldManLookAtMyLife/MaxAfinogenov.jpg[/img:30e81]
[img:30e81]http://www.viralsound.com/get.php/NickZ.jpg[/img:30e81]
[size=75:30e81][b:30e81][url:30e81]http://nickzssteakout.proboards106.com/index.cgi[/url:30e81] [/b:30e81] - NickZ's Steakout[/size:30e81]
Posts: 5580
Joined: Tue Apr 08, 2003 11:59 pm
Haha that's great. Should've sent this to me, I'll put it on my site.

Bob Costas has also said stuff like this, as have Matt and Trey.
Posts: 897
Joined: Sat Apr 29, 2006 9:07 pm
Matt and Trey themselves said it was the worstest movie ever!!!!!!!!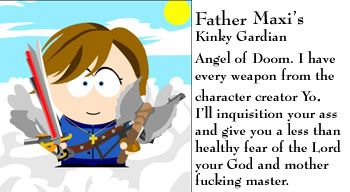 Kyle Loves Me
// Albino.black.sheep is my accountabilabuddy! *tackle hugs*
Matt and trey have ripped on the movie too.Just watch "the passion of the jew".
Posts: 89
Joined: Sun Apr 08, 2007 3:40 am
swellman7 wrote:Matt and trey have ripped on the movie too.Just watch "the passion of the jew".
They were joking on that episode, and mabye on other comments. But I like the movie and I don't care if Michaels was joking or being serious.
---
Who is online
Users browsing this forum: No registered users and 1 guest