FORUM
Moderator: Big-Will
Posts: 10
Joined: Sat Jun 04, 2005 11:48 am
please dont let it end...

is there a season they have said they will stop.. some guy said 12.. thats not far away!!

please god no dont let it end..

they should carry on south park for the rest of there lives

at the very least have as many series as the simpsons

Posts: 897
Joined: Sat Apr 29, 2006 9:07 pm
South Park will be nuked, they'll all catch the bird flue, and every other bad thing at once and they'll all die.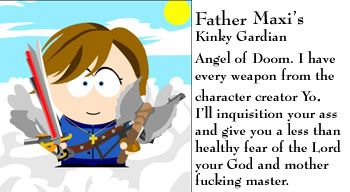 Kyle Loves Me
// Albino.black.sheep is my accountabilabuddy! *tackle hugs*
Posts: 1272
Joined: Wed Jul 02, 2003 7:45 pm
Perhaps everything will be back to normal.

Kenny would die all the time again; Chef, Jesus, Ms. Crabtree and Ms. Choksondik will be brought back; Mrs. Garrison becomes a man again and finds Mr. Hat, and the last episode will probably involve the Visitors, in order to bring the series full circle.
Posts: 95
Joined: Sun Jul 30, 2006 2:31 am
Maybe everyone in town sing "Mountain Town"(from the movie) at the very end and have a scene that takes place 10 or 15 years later, and the boys are still in town, still friends, possibly married and have kids, and are at their school reunion or at their hangout spot joking around and have a moral speech and joke some more.
---
Return to "General South Park Discussion"
Who is online
Users browsing this forum: No registered users and 1 guest