FORUM
Moderator: Big-Will
Posts: 5
Joined: Thu Aug 24, 2006 7:52 pm
Posts: 2878
Joined: Wed Dec 22, 2004 2:22 am
from the episode:
So you see, there was no "some Puerto Rican guy." He doesn't exist. And so the people we owe the biggest apology to are the Ramseys, Congressman Condit, and O.J. We gave you false hope for finding the person who hurt those close to you and, we're sorry.
Biggie Smalls, Biggie Smalls, Biggie Smalls.

Gerald: See you Saturday, makizzer shanna sharilla shaz biuznatch gazizzah!

Only three more hours, sea people. Only three hours and you can take me away from this crappy goddamned planet full of hippies.
Posts: 1719
Joined: Wed Feb 01, 2006 3:17 am
Posts: 897
Joined: Sat Apr 29, 2006 9:07 pm
triplemultiplex wrote:

f*ck no!

Anyone one who dresses up thier 6 year old like a little whore and parades her around like a show dog for money deserves to be the chief suspects in thier daughter's murder.

The Ramsey's were sorry excuses for human beings. They should've been encouraging thier daughter to learn some real skills rather than teaching her that all that matters is being pretty. It's one thing to pull a picture of your kid out of your wallet and impress people; it's another thing to make 'em up like a tramp and display them like they're for sale at auction.

f*ck the Ramseys. They were the most guilty-behaved "innocent" people in the history of time.

True.
Besides, Matt and Trey never said they were guilty, they only had fictional characters say it. A fictional character in a show saying someone is guilty, which everyone was implying at the time, doesn't constitute as actually going out and saying it. And yes, in a cartoon show, even the narrator is a "character". Now if matt and trey had come out and said she did it, or shown her killing the girl in show, there might be slander/libel suit. Not really sure on that since it falls under parody and satire which means they can get away with quite a lot.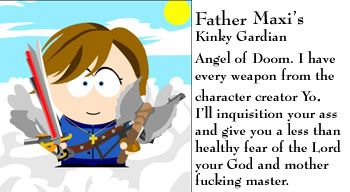 Kyle Loves Me
// Albino.black.sheep is my accountabilabuddy! *tackle hugs*
Posts: 666
Joined: Mon Mar 27, 2006 12:52 pm
I still think he should be locked up, what kinda wierdo wants to be known for such a brutal crime!!! if you read my previos posts in this thread, I said he should still be locked up in the first place. What a sick ass weirdo!!!



Makes me want to throw up.

"It's not Jesus.... It's a portal monster." - SuperiourSavior
Now that John Mark Karr's DNA has been shown NOT to match the DNA found on JonBenét's body, this thread is rendered moot, and closed.
---
Return to "General South Park Discussion"
Who is online
Users browsing this forum: Majestic-12 [Bot] and 2 guests