FORUM
Moderator: Big-Will
Posts: 19
Joined: Thu Sep 07, 2006 1:30 am
I was thinking about cartoon wars when i recently watched the "super best friends" ep. and i wondered why nobody rioted in America like in denmark after the newspaper comic. Has the united states government showed they can properly suppress religious upheaval or are american muslims just lazy

.
I am Bullrog, and I have lots and lots of powers
Posts: 1371
Joined: Mon Aug 01, 2005 7:09 pm
That wasn't really taking the piss though

Posts: 897
Joined: Sat Apr 29, 2006 9:07 pm
bullrogrules wrote: are american muslims just lazy

.
No, it's just that muslims in Denmark are really bored and have nothing better to do with their time.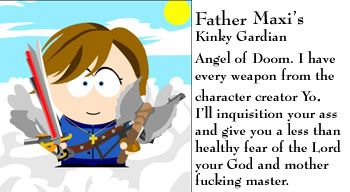 Kyle Loves Me
// Albino.black.sheep is my accountabilabuddy! *tackle hugs*
Posts: 3616
Joined: Tue Sep 06, 2005 7:50 pm
Remember that the super best friends episode was done WAAY back in season 5. Stuff was a little different back then.
If you want me to do a signature for you,
PLEASE READ THIS FIRST!
Posts: 2226
Joined: Wed Apr 19, 2006 10:06 pm
Not really that different. For one thing it was back in 1988 that Ruhollah Khomeini of Iran declared a fatwa against author Salman Rushdie because of his book "The Satanic Verses", which provoked the Muslim community and made Rushdie the target of death threats. He had to go into hiding for a decade because of it. Even today the radical Muslim clerics in Iran have declared that the fatwa is still in effect. So whether it's 1988, 2001, or 2006 doesn't make much of a difference to violent religious fanatics.

I suppose the difference is that SP portrayed Mohammed in a relatively positive light, and the episode itself had a good message.
Posts: 19
Joined: Thu Sep 07, 2006 1:30 am
I see in America we have great entertainers like Matt & Trey who create great TV and Movies to keep fanatics from becoming bored, so THANK YOU Matt & Trey for doing you part in homeland security. But seriously I thought any representation of their holy Prophet was like a sin or something?
I am Bullrog, and I have lots and lots of powers
It's not the Muslims in Denmark that rioted, it's the ones in every country in the world, including the United States.

The difference is that the Danish cartoons were directly attacking Islam and protraying Muhammad as a violent man, when infact he was a man of peace.

Had SP shown Muhammad in Cartoon Wars, most probably nothing would have happened, because they wern't insulting him. And the only Muslims that know about him appearing in the episode are SP fans like myself, who don't want a fatwa against south park, so I just keep my mouth shut.

As Kyle said "...no, Muslims arn't allowed to drawn the prophet Muhammad..."
---
Return to "General South Park Discussion"
Who is online
Users browsing this forum: No registered users and 2 guests