FORUM
Moderator: Big-Will
Posts: 176
Joined: Sat Dec 31, 2005 8:15 pm
Did anyone hear at the end of the episode to go to the BBS boards? Usually I'll come on here to see what everyone is writing about the episodes. But it's weird to actually hear that you know?
Posts: 897
Joined: Sat Apr 29, 2006 9:07 pm
They were advertising the comedy central bbs, not these ones. I don't go to those ones... Comedy Central is icky.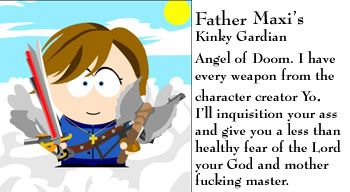 Kyle Loves Me
// Albino.black.sheep is my accountabilabuddy! *tackle hugs*
Posts: 176
Joined: Sat Dec 31, 2005 8:15 pm
Figures, we are the ginger kids.
freeuser
Even weirder, at the hotel, police cars (upside down) 06, 03, and 02. New nbc shows studio 60, 30 rock, and 20 good years.
Coincidence?

I think not!!!

Posts: 6136
Joined: Mon Jan 31, 2005 5:24 am
They did plug this board once back in season 9 and there was a noticeable uptake in retarded n00bs for a few days. But nothing more than a controversial episode would bring in.
__________________________________________________
You read it! You can't

un

read it!
---
Return to "General South Park Discussion"
Who is online
Users browsing this forum: No registered users and 1 guest