FORUM
Moderator: Big-Will
It's October 19th.
I want to take this time to wish Trey Parker and Stan Marsh a Happy Birthday.
Trey's turning the big 40 today and still going strong.
Stan would be 21 today.
Have a great day and remember to use a designated driver!

Stan and Kyle :)
Wow. Today, he is a man, he is forty.
Here, have this ya basterd!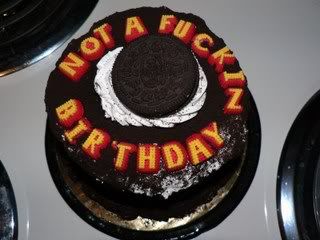 Happy Birthday, Trey. Forty is the new thirty.

Posts: 5579
Joined: Mon Aug 24, 2009 10:43 am
Happy fucking birthday to two of my favorite dudes.

This is my signature. I made it small so anyone who tries to read it has to copy and paste the text somewhere else only to find that it isn't interesting at all. Congratulations. Also, fuckshitcockassbitchtitspenisfagskankwhorecuntpoop.
Posts: 22
Joined: Thu Apr 29, 2004 4:01 pm
Welcome to the fabulous decade, Trey.
Posts: 595
Joined: Tue Mar 22, 2005 10:03 pm
"The basis of all reasoning is the mind's awareness of itself. What we think, the external objects we perceive, are all like actors that come on and off stage. But our consciousness, the stage itself, is always present to us," Trey Parker
Happy birthday, Trey. You do realise you're 40 now, huh?

I guess it still seems like yesterday when you made that first episode, isn't it? You're getting old.. not! Your episodes are still f*cking great and I'm always excited to Thursday afternoon.

Oh hi. So, how are you holding up? Because I'm a potato.
*slow clap*
Has he called a press conference yet?

Nice, Happy 40th birthday Trey. I hope you're enjoying it and don't have to work your ass off today too much for the new episode.

Uhm, and happy birthday Stan.
Last edited by
dvda92
on Mon Oct 19, 2009 8:03 pm, edited 1 time in total.
Posts: 10135
Joined: Fri Mar 07, 2008 11:19 pm
Big-Will wrote:Happy Birthday, Trey. Forty is the new thirty.
And 21 is the new 9/
I Wasn't choking you I was just hugging your neck

R.I.P Chef for realz this time

( chef joined the sith so why don't you?)

R.I.P Billy Bonka
Happy birthday to 2 of my idols!
---
Return to "General South Park Discussion"
Who is online
Users browsing this forum: No registered users and 2 guests