FORUM
Moderator: Big-Will
As you all know, South Park the Game is coming, this year, sometime between July and December, although I don't know when. It will be an RPG game that takes place in the South Park universe.
Links are
here
and
here
This is an open discussion about whatever you want as long as it has something to do with South Park: The Game.
/discuss
I wonder, will Chef be in the game, even as some kind of non-speaking cameo?
skurtz wrote:

nwt000 wrote:Get your trolling ass out of here!

I'm more friendlier drinking some espresso.
A better question is, will Obsidan (a.k.a. Black Isle Studios) get it right? While I love gaming, enjoyed thier previous game FALLOUT NEW VEGAS, I still have doubts. I'm pre ordering SP THE GAME anyway. It be really fun to kill off characters you hate, anyone agree?

The sad thing is not all SP fans are gamers. So not all SP fans will be able enjoy it.
My favorite SP characters: Cartman and Butters.

My favorite food: anything pasta related.
Posts: 16
Joined: Sat Jan 28, 2012 1:50 am
Matt and Trey are both putting a
lot
of feedback and work into this game, which is something they haven't done in the past. This game is the real deal, and as I read in some video game magazine, it's being considered the "first" south park game.
I hope its better than I think it is.
I am a pro gamer (well I'm not actually pro, but I am a gamer) and here's my standpoint on RPGs.
An RPG consists of an adventure-style gameplay in which you are immersed into your character, whether you're given one or you create your own, and the game ends based on your decisions. They aren't always fantasy (magic and dragons and all that other sh*t), but most are.
While true, I don't expect to see any real magic (people actually shooting ice from wands) but here's what I kind of imagine.
For magic, you used like hot sauce, ice cubes, blocks of flaming wood, and that other stuff. For guns, I'm guessing...nerf/BB/painball guns. For melee, you use like sticks, bars, baseball bats, and such. And bows and crossbows will not shoot metal arrows.
On the Game Informer cover, I saw Satan inside the pond the kids were looking at. There were also demons, and dragons too. Just look closely into the pond.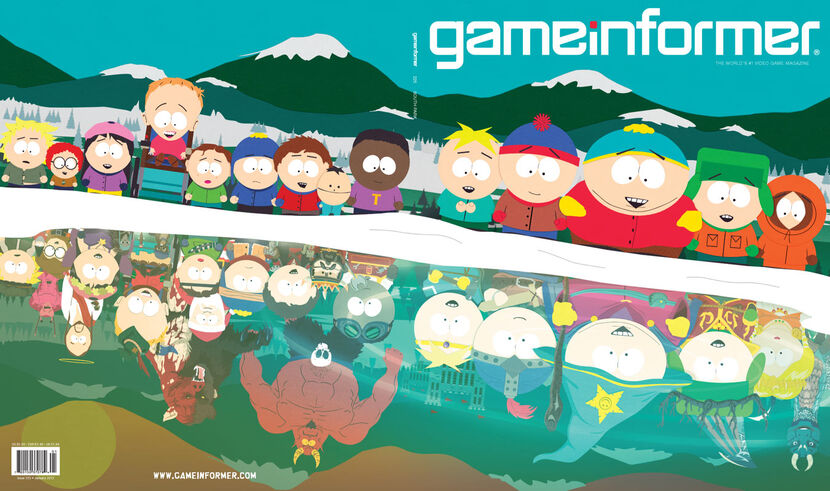 Wait. Kenny's gamer persona is a Raisins girl? And Stan has a dildo? whaaa?
We already have an official thread for this game. This one is now locked.
---
Return to "General South Park Discussion"
Who is online
Users browsing this forum: No registered users and 2 guests