FORUM
Moderator: Big-Will
Posts: 2
Joined: Mon Feb 26, 2007 1:25 am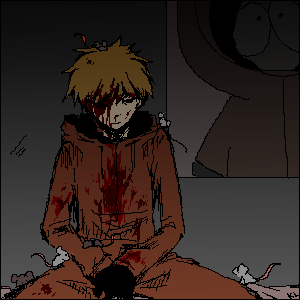 Kenny and his friends....
>>;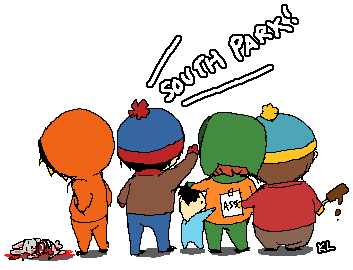 The gang and Ike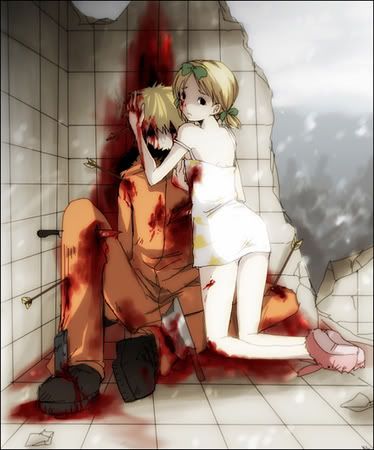 Yeah, this is Kenny and Marjorine/Butters... it's a bit dramatic *swt* I don't support these two as a couple btw....just drew it for fun xD; Also, I'm as lost as you guys for like, where the hell they are and stuff....;;
Bigger version here:
http://www.deviantart.com/deviation/49108331/
South Park is love!! vvv
-KL
Last edited by
Reign-sama
on Mon Feb 26, 2007 2:41 am, edited 4 times in total.
Posts: 1079
Joined: Tue Nov 16, 2004 6:56 pm
Amazing, amazing job. I really love your style of art.

derp.

[please excuse my username, i was a lame 13-year-old.]
Posts: 234
Joined: Tue Oct 10, 2006 12:06 am
I love them!!!
[img:31e77]http://i145.photobucket.com/albums/r219/Southpark2007/gg.png[/img:31e77]
The Raisins and Gang pictures are my two favorite. <3

The last one scares the hell out of me. And yet, I can't help but adore the coloring you put into it. 8D
What's the difference between a 7-11 and a smurf?

A 7-11 is a 24-hour convenience store and a smurf is a small blue fictional cartoon character.
Posts: 22
Joined: Tue Feb 27, 2007 12:26 am
ahh, absolutely lovveee these. brilliant ♥
i especially like the last one; what skill, what skill xD
lots of cute ones in there too! veryvery nice work :]]
Posts: 2615
Joined: Sat Nov 11, 2006 9:09 pm
The first and the last one are very brutal.
Nice job!

wow, they're all amazing!!!
I <3...

Butters <3
+
Kenny (RIP!!!)

4ever <3
Posts: 8
Joined: Fri Oct 21, 2005 5:57 pm
Woah, I LOVe the first Kenny one!
"The common mistake people make when designing something completely foolproof is to underestimate the ingenuity of complete fools." - Douglas Adams

"Mmmmf mmmf mff! Mmf mff mf mmff!" - Kenny McCormick
Posts: 1477
Joined: Sat Feb 18, 2006 10:07 pm
*surrenders* I got beat.
Someone wrote:Lies! None of the guys on here have seen real women!
---
Who is online
Users browsing this forum: No registered users and 1 guest