FORUM
Moderator: Big-Will
Mr. Garrison assigns the boys learn out about Vietnam from somebody they know. Stan's Uncle Jimbo and his friend Ned tell the boys their outrageous tale. Mr. Garrison doesn't believe the boy's report and gives them detention. They plot revenge against Stan's Uncle by submitting a phony video of the Mexican Staring Frog of Southern Sri Lanka to them.
Posts: 81
Joined: Tue Sep 04, 2007 2:54 am
This was yet another great episode! This is the first of two ratings battles in the show, IIRC. They were equally good. I'd search for hours to find something I didn't like about this episode, and still come up nothing. 960/1000
Posts: 4261
Joined: Wed Feb 13, 2008 10:05 pm
Strangely innocent fun from the early years, with some great characters (Jimbo and Ned, Jesus) who are hardly used anymore. Garrison's Vietnam story makes me lol every time, as do all jesus and pals attempts to get more audiences. The futility of their battle (it's over like, 5 people) makes it even funnier.
Superior2you
Check my Fanarts!
Death will take us so don't fight it. Become it and lean to win.
Posts: 438
Joined: Sat Nov 15, 2008 5:40 pm
I used to laugh everytime I watched that episode

Posts: 0
Joined: Sat Apr 16, 2011 5:47 am
Is my favorite of all times is so great because of the story and how they make fun of local show
Posts: 0
Joined: Sun Dec 06, 2009 3:33 pm
Its ok, Montel. We all wanna touch the childeren sometimes its perfectly natural.
Posts: 55
Joined: Mon Jun 10, 2013 11:01 am
I'm such a dork that I paused the initial Mexican Staring Frog video to see what that green & black blur was.
Behold: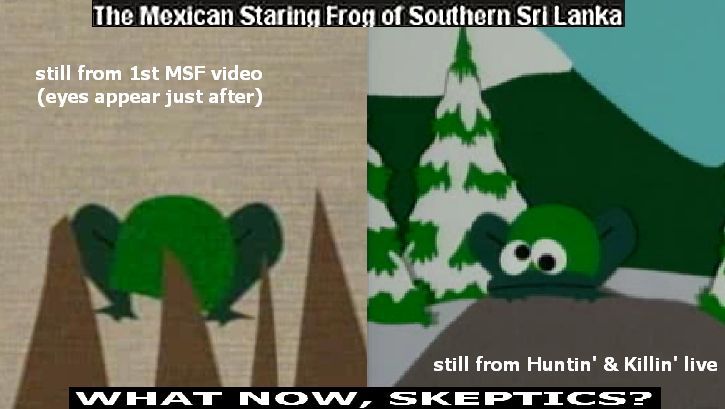 This & City on the Edge of Forever are currently my top two favorite episodes. I love Jimbo & Miss Crabtree!
"Form of...NEIL DIAMOND!!"
---
Return to "Spoilers/New Episode Discussion"
Who is online
Users browsing this forum: No registered users and 1 guest