FORUM
Moderator: Big-Will
I could be: Stan, Kyle or Butters, but i have no idea



mod edit: moved and edited title for caps abuse.
LOVE BUTTERS? WANT TO SEE A GREAT BUTTERS SITE? THEN VISIT: buttersapples68.piczo.com
Posts: 183
Joined: Wed Mar 29, 2006 4:18 pm
cartman, of course, or any girl that cartman might fall for, exept for wendy


-
I'll stop making sigs for a while
Posts: 639
Joined: Thu Nov 10, 2005 10:26 pm
I'd be Rebecca Cutswald. Why? Because she kissed Kyle! I wouldn't want to be Kyle though, I would rather be someone who could stalk him.

Ok, maybe not stalk, but I would rather be around him than be him. Maybe I would be Stan, that'd be pretty cool, then I could be Kyle's best friend.
Posts: 897
Joined: Sat Apr 29, 2006 9:07 pm
Rebecca Cutswald is me...
No seriously, I'm home-schooled, my name is Rebecca, and I live in a bubble. I like it here. My last name isn't Cutswald and I don't like kissing boys, but anyway....

I think I wanna be like Ms. Crabtree. She's f*cking awesome.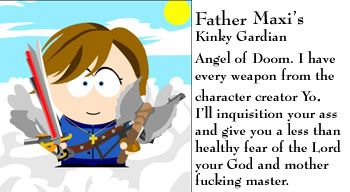 Kyle Loves Me
// Albino.black.sheep is my accountabilabuddy! *tackle hugs*
Posts: 92
Joined: Sun May 28, 2006 3:39 pm
Butters he's so cute.
Or kenny so i die and get the day over with

Posts: 2492
Joined: Sun Feb 05, 2006 2:08 am
Estella. You probably all know why.

If I had a second choice, it would have to be Butters. Except for the abuse from his parents, he seems like someone I'd love to be. Or maybe Tweek, because I stay up all night anyway...
Posts: 13
Joined: Wed Jul 19, 2006 2:35 pm
Wow... It's actually a tough descision for me. All the characters are cool.

Okay. I think I would want to be Stan, or Wendy, because they are two of my favorite characters.
Don't F*ck with Wendy Testaburger!!! WendyFan
Could I possibly get, two MegaRangers?
Cartman is totally awesome.
StanFan.
Towelie really is the lamest but maybe one of the funniest characters ever.
i would probably want to be kyle since i'm really intelligent and get good grades and i'm usually leader of the group.
My favorite sp characters: Bridon(he's so cute!)
Kyle,Stan, Kenny/Mysterion.

Fave ep: ESM Season 12,Sec fave: Butterballs Season 16
---
Return to "Character Discussion"
Who is online
Users browsing this forum: No registered users and 2 guests