FORUM
Moderator: Big-Will
Posts: 675
Joined: Sun Jan 07, 2007 8:12 pm
i'd definitely be kyle, since i'm most like him. i wouldn't want to be butters.. he's a total sweetheart, but he's always getting abused and coerced into doing everything that no one else wants to do.. ><
Ich bin über alles.
SoundClick
[35 pieces // last update: 07.03.09]
Posts: 5
Joined: Fri Jan 12, 2007 9:26 am
I'm a girl but is it really bad that I want to be a Cartman too?


Posts: 41
Joined: Fri Mar 16, 2007 8:11 pm
Mr. Mackey of course!

SPsource.net
PM me or a signature. Please contain a description!
Posts: 27
Joined: Wed Mar 21, 2007 8:34 pm
Stan. He's the more sane of them and loves animals. Or Wendy.
The Stan thread and the Kyle Thread have more pages than the Cartman thread. I'm so proud.
Posts: 897
Joined: Sat Apr 29, 2006 9:07 pm
...Bebe... she seems to have the least shittiest life out of all of them.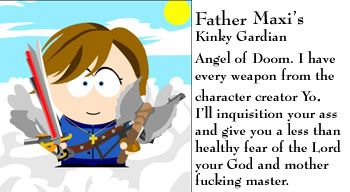 Kyle Loves Me
// Albino.black.sheep is my accountabilabuddy! *tackle hugs*
---
Return to "Character Discussion"
Who is online
Users browsing this forum: No registered users and 2 guests