FORUM
Moderator: Big-Will
Posts: 3
Joined: Tue Oct 10, 2006 9:29 pm
every one says their fav characters ar kenny


and butters

so.... who do u like more why? my fav is kenny
south park rules!!!!
Kenny's better.

Posts: 1765
Joined: Sat Feb 25, 2006 8:06 pm
Posts: 897
Joined: Sat Apr 29, 2006 9:07 pm
All kenny ever talks about is his gentitals and vaginas...
Butters gets tortured. Hrm... who is more fun to watch? Butters. XDDD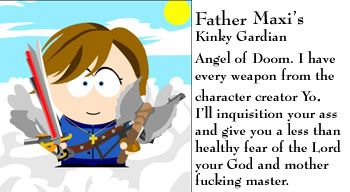 Kyle Loves Me
// Albino.black.sheep is my accountabilabuddy! *tackle hugs*
Posts: 18
Joined: Thu Oct 19, 2006 9:25 pm
Its got to be Kenny, although Butters has his strong points
Tiggz
Posts: 31
Joined: Fri Sep 08, 2006 8:12 pm
blatently butters, its got to be. He should be the fourth friend again. The aspect of being a really innocent kid that gets picked on is awesome!
Kenny.

Butters makes for a far better secondary character (as he has been in seasons 10 and 5) than a major one.
Posts: 75
Joined: Mon Sep 11, 2006 11:19 am
I'm a huge Buttersphile--he's my favorite character, period--but having said that, I like them both. I am finding that I like writing them both into a story and once they were there, they began interacting a lot.

So I would hate to see a South Park that totally exiled either character. I did find myself wondering on Wednesday, "where is Kenny? He ought to be here" and the only reason I could think that he wasn't was that Kenny wouldn't be interested in calling dead people back through mirrors, is too familiar with Hell and Satan, and his presence would just complicate things. I'm sure we'll see more of him later this season.

~~professor butters
---
Return to "Character Discussion"
Who is online
Users browsing this forum: No registered users and 2 guests