FORUM
Posts: 10
Joined: Sun Jul 16, 2006 7:01 pm
This is retardedly hilarious,
Kyle becomes the first South Park eunich (castrated male) for breaking a law in rural China (where castrating is still allowed). He apparently stole a bottle of horse semen (they really use that for soups over there, M'm M'm... Good®), even though it was some other guy who gets away. Kyle pays the price by getting castrated.
He apparently is kidnappped by the Chinese mafia who steal him for his clothes (sounds retarded), then is forced to wear garbage bags, then winds up in a rural village.
He gets back to South Park when he goes to North Korea, where he somehow lands in a rocket that's fired on a beach in San Fransisco, California, and it isn't destroyed, so he can get out. Then he gets back to South Park when Mr. Garrison goes to a transsexual rights meeting.

You carry off
"I want to make love up your ass" -- quote Chef
Posts: 1793
Joined: Thu Dec 23, 2004 10:14 pm
No.

Plain and simple, no. That's a ridiculous idea just to torture Kyle. I'm going to take a wild stab in the dark here and guess that you're not a big Kyle fan.

People come up with the most retarded episode ideas....

God, they already torture Kyle enough, I don't think he needs to have his balls chopped off. (wow, that was very blunt wasn't it?)

But yeah, it certainly is twisted, but not really a great idea. Just, no...
Posts: 639
Joined: Thu Nov 10, 2005 10:26 pm
Posts: 2492
Joined: Sun Feb 05, 2006 2:08 am
I saw this and thought "What the hell is up with this?" Seriously, Kyle goes through so much trouble as it is...

Er... that probably wouldn't fly.
Posts: 2878
Joined: Wed Dec 22, 2004 2:22 am
urajackass wrote:This is retardedly hilarious
Take out the this is and hilarious and the "edly" on retardedly and that describes you
Posts: 2226
Joined: Wed Apr 19, 2006 10:06 pm
urajackass wrote:Kyle becomes the first South Park eunich (castrated male) for breaking a law in rural China (where castrating is still allowed). He apparently stole a bottle of horse semen (they really use that for soups over there, M'm M'm... Good®), even though it was some other guy who gets away. Kyle pays the price by getting castrated.
If you think this is such a good idea then you go first. I'll get the pair of bricks. Don't worry it only hurts if you get your fingers caught in between.
Posts: 897
Joined: Sat Apr 29, 2006 9:07 pm
wow... um hard core sadism is becoming pretty pop these days...
Get help dude.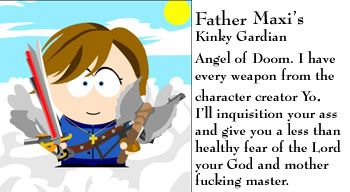 Kyle Loves Me
// Albino.black.sheep is my accountabilabuddy! *tackle hugs*
Posts: 1765
Joined: Sat Feb 25, 2006 8:06 pm
Why the hell would they chop off Kyle's penis???? This is a sadistic idea.
Posts: 410
Joined: Sat May 13, 2006 10:41 pm
f*ck all you guys thats the best idea ive heard all day like its hilarious and do people actually like kyle i meen hes not funny hes jewish and like stupid i meen good job im actually giving you props for your idea

XdanielX

---
Return to "Episode Speculation"
Who is online
Users browsing this forum: No registered users and 1 guest