FORUM
http://www.cnn.com/2007/LAW/01/19/sex.ruse.ap/index.html
This HAS to become an episode. I've been watching SP since a dish came out of cman's ass. This real world situation about 2 old men being extremely upset they weren't really sleeping with a 12 year old... aw geeze.. aw man... it just screams cardboard cut out mayhem if you ask me. Where do i submit an idea?
First off, this is the wrong board too post this. Secondly, That's just plain bizarre and I don't see how they can make an episode about this, especially since they've already done something with sex offenders(Ms.Teacher). Usually when M&T use an idea, they don't return too something even similer for awhile.
Through the years we all will be together...if our fates allow...

"Whats your name?"
"What's in a name?"
Kyle and Rebecca.
wasn't the namba episode for something like this?
whoa...
Posts: 897
Joined: Sat Apr 29, 2006 9:07 pm
Wait... why is the one being arrested? And him!? 12? Uh.... XD Wow thats one ugly kid

wait ok I read the story. Sex-offender, got it.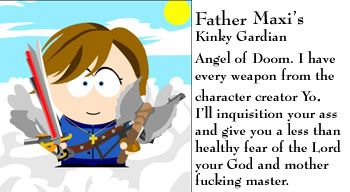 Kyle Loves Me
// Albino.black.sheep is my accountabilabuddy! *tackle hugs*
---
Return to "Episode Speculation"
Who is online
Users browsing this forum: No registered users and 1 guest