FORUM
Moderator: Big-Will
So if uou are looking for any plushs in particular email me and ill see what i can do.
Email me at
louiseg18@hotmail.com
Can send pics on request.
Thanks
Louise
Louise G
Posts: 2
Joined: Sun Sep 24, 2006 5:48 pm
do you have any south park plushies?
"shut the hell up you fucken fat-ass!!!"
http://www.comedycentral.com/sitewide/game_player
Posts: 897
Joined: Sat Apr 29, 2006 9:07 pm
I want Butters... but I'm a little unsure about buying a used plushie... God only knows what you did to it.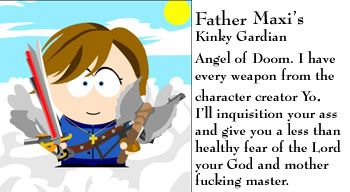 Kyle Loves Me
// Albino.black.sheep is my accountabilabuddy! *tackle hugs*
---
Return to "Plush Dolls Rare & Not so Rare"
Who is online
Users browsing this forum: No registered users and 1 guest